Hey, Poptropicans!
Today, two very important posts were published on the Creator's Blog. Firstly, the long-awaited 2016 #PoptropicaArt contest winners were announced. (You heard me,2016!) If you haven't seen the finalists, here's round 1, round 2, round 3, round 4, round 5 and 6.
In addition to first, second, and third place, eight honourable mentions were chosen.
First place gets a six-month Poptropica membership and a bunch of Poptropica swag
Second place gets a three-month Poptropica membership and a bunch of Poptropica swag
Third place gets a one-month Poptropica membership and a bunch of Poptropica swag
And our honorable mentions all get a one-month Poptropica membership
I wonder what this "Poptropica swag" is? Probably nothing…
Without further ado, here are the winners!
–––
In first place, with her astounding Astro-Knights themed collage is…
…Maryann P.! Congratulations! I hope you enjoy your 6 months of membership.
Here's what the Creators had to say about her artwork:
"Poptropica is about storytelling. I like that this image tells a story. Plus, the artist did a great job rendering Binary Bard's universe. It is very rich in detail and perspective, which really stood out to me."

"Maryann P.'s uses great colors and mood in a nice storytelling format."

"I like the scale and level of detail!"
In second place, with her detailed drawing of the four main villains is…
…Crafty Poptropican! Wow! I bet it took her a very long time to draw that. Enjoy your three months of membership. Here's what the Creators had to say about her artwork:
"The appealing, fun colors and character attitudes of Crafty Poptropican's piece really knock it out of the park."

"This artist captured 4 of my favorite villains in a fun and creative way. Their use of color and imagery reminded me of the dreams on Super Villain Island."

"I could see this hanging on a wall."
Last but not least, in third place, with her PoptropiCon drawing is…
…Slanted Fish! Enjoy your one month of membership and Poptropica swag! Here's what the Creators had to say about her artwork:
"I love the action in this image! I also really like how the artist placed some of the avatars outside of the frame. When I look at this I feel like Omegon is just ready to emerge out of the background."

"Slanted Fish did a great job pushing the action poses and staging the characters in a way that it feels like an epic battle."

"What an action-packed image! Love the details and colors."
Congratulations to @yuneiko_, @yazz._.minne, Tiger35767, @smileyfaceorg, Me,@julia_henry_la, Creepy Goose, and Brave Tomato for getting honourable mentions. Although you may not get Poptropica swag, you'll still get one month of Poptropica membership!
Don't be upset if you didn't win – there's always next year.
–––
In other news, Halloween has hit Poptropica, which means there have been some major updates to the store and Home Island!
First of all, the Halloween Photo Booth is up and running. Just look for the witch to start creating your spooky masterpiece.
Being the creative guy I am, I decided to join the fun – I call this one "A Love That Cannot Be". Don't judge, my photography skills aren't that great.
Speaking of which, there's going to be another photo booth contest starting next week. The Creators will randomly pick players' photos, and award the winners one-month memberships throughout October – they'll also feature some of their favourite submissions on their social media!
The characters on Home Island have also had a bit of a makeover, as well as some new dialogue!
Eek. DJ Saturday Nite really needs to go lighter, or at least dye her hair back to her natural shade, otherwise, I'll start mistaking her for Tall Cactus.
Finally, there are some scary new items and costumes in the store. It seems like we'll be getting some new items next week. Hopefully, they're better than the Fall Fashion outfits.
What an exciting day! And if that wasn't enough, Skinny Moon visited the PHC a few hours ago. Until next time…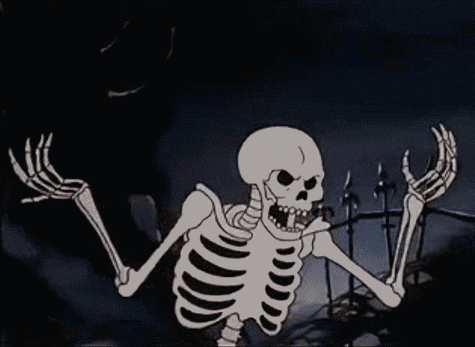 – Scary Skunk